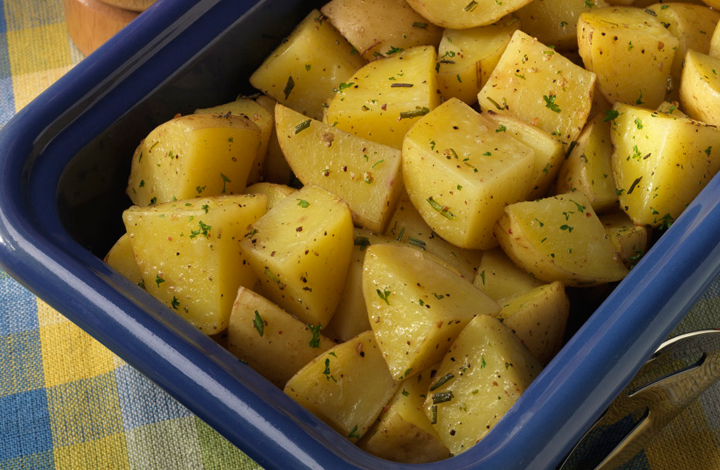 Flavor these microwave-roasted potatoes with your family's favorite herbs and see how fast they disappear! If requiring a gluten-free recipe, check the label of the indicated (*) recipe ingredients to ensure they are gluten-free.
Yield: 4
Ready Time: 15 Minutes
Cook Time: 15 Minutes
Ingredients
4 medium russet, yellow-flesh or white potatoes or 6 to 8 small red potatoes
2 Tbsp Vegetable or olive oil
Salt and black pepper
Chopped parsley, rosemary or thyme,
or other seasoning*
Preparation
Cut potatoes into uniform cubes. Place in microwave-safe dish or a microwavable steamer bag. Drizzle potatoes with oil and season with salt and pepper. Sprinkle with seasoning and toss to coat potatoes evenly. Cover tightly with lid or plastic wrap. Microwave on high for 10 minutes (cooking time may vary depending on your microwave) or until potatoes are done. Use oven mitts or tongs to remove from microwave. Remove plastic wrap carefully to prevent burns from steam.
Calories: 235 Fat: 7g Sodium: 306mg Fiber: 3g Protein: 4g
Recipe Courtesy of: United States Potato Board
Print Recipe