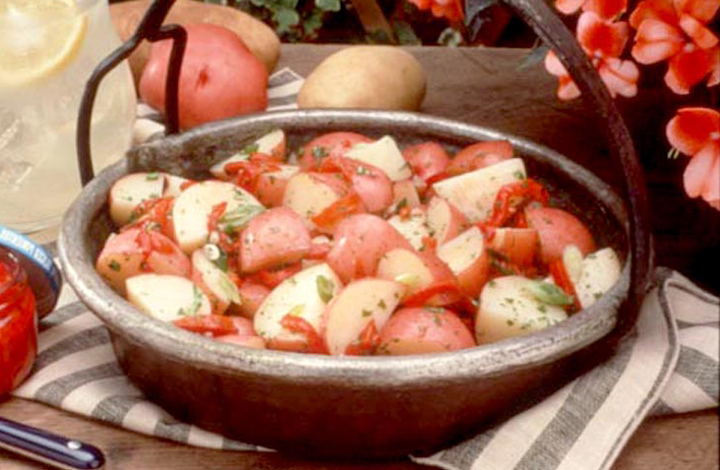 Yield: 4
Prep Time: 20 Minutes
Ready Time: 35 Minutes
Cook Time: 15 Minutes
Ingredients
Dijon-Tarragon Dressing:
1/3 cup olive oil
3 tablespoons Dijon-style mustard
3 tablespoons white wine vinegar
1 clove garlic, finely chopped
1/2 teaspoon dried tarragon leaves
Salad:
1 1/3 pounds (about 4 medium) potatoes, cut into 1-inch cubes
1 cup sliced celery
2 hard-boiled eggs, coarsely chopped
2 tablespoons drained capers
3/4 teaspoon salt
Pepper
Lettuce leaves (optional)
Preparation
In large bowl, whisk together dressing ingredients until blended; set aside. In medium saucepan, cook potatoes, covered, in 2 inches boiling water 10 to 12 minutes or until just tender; drain. Add potatoes, while still warm, to dressing; toss to coat. Add celery, eggs, capers and salt; toss gently to combine. Season with pepper, as desired. Serve on lettuce-lined salad plates, if desired.
Calories: 390 Fat: 22g Cholesterol: 105mg Sodium: 290mg Fiber: 4g Protein: 8g
Recipe courtesy of the US Potato Board
Print Recipe