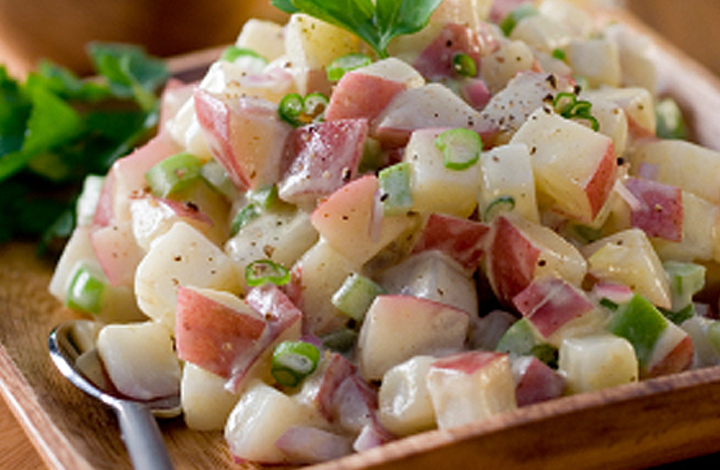 Try this red potato salad recipe with fresh New Brunswick potatoes for a delicious side salad year round. Possibly the most colourful potato salad you've ever served!
Prep Time & Yield
Prep time: 10-12 minutes
Cooking time: 20-25 minutes Makes approx. 6-7 cups (eight 3/4 cup servings).
Ingredients
2 1/2 lbs medium red-skinned potatoes
4 hard-cooked eggs, chopped coarsely
1 cup Diced celery
1 1/2 cup diced large red pepper
1/2 cup diced red onion
1/2 cup diced large dill pickles
1/2 cup plain low-fat yogurt
1/4 cup low-fat mayonnaise
2 tablespoons Vinegar
Preparation
Boil eggs for 10 minutes and set aside.
Wash potatoes. Boil whole, unpeeled, for approx. 20-25 minutes or until very soft. Drain. Spread out on a baking sheet and pierce with a fork to help let the steam out. Let cook for 5 minutes.
Leaving the skins on, chop the potatoes coarsely and place in a large bowl.
Add cooked eggs, celery, red pepper, red onion, and the pickles. Toss.
Add yogurt, mayonnaise and vinegar, Stir untill well mixed, Chill. Keeps well in the fridge for up to 2 days. If the salad is dry, add an extra 1 tablespoon mayonnaise + 2 tablespoons (30ml) plain low-fat yogurt.
Print Recipe